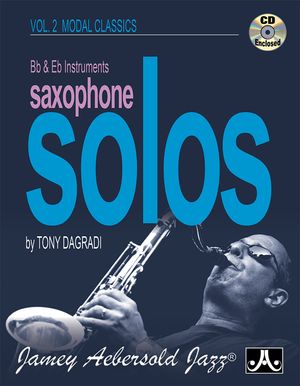 SAXOPHONE SOLOS VOL. 2 - MODAL CLASSICS
SAXOPHONE SOLOS VOL.2 - MODAL CLASSICS is the sequel to the highly regarded SAX SOLOS OVER JAZZ STANDARDS.  The new book contains twelve modern etudes in solo form based on some of the most important modal classics of the twentieth century.  These studies explore motivic development, chromaticism, composite scales, pentatonic patterns and other techniques for tonal organization.
Over the course of the rapid evolution of jazz, many artists experimented with compositions using various modes and passages of static harmony.  Early on, Duke Ellington, Charles Mingus, Benny Goodman, Fletcher Henderson, Dizzy Gillespie and others designed compositions and arrangements which were based on single modalities, often drawing upon influences from around the world.  In the mid 1950s, with his ground breaking recording, "Kind Of Blue," Miles Davis led a revolution of modal thought.  Later, composers like John Coltrane, Herbie Hancock, Wayne Shorter, Chick Corea, Joe Henderson and many others all found their own ways to utilize new modal concepts and contributed many important compositions to the standard repertoire.  
Saxophone Solos Vol. 2 examines all of these developments from a uniquely contemporary perspective.
Click here to order: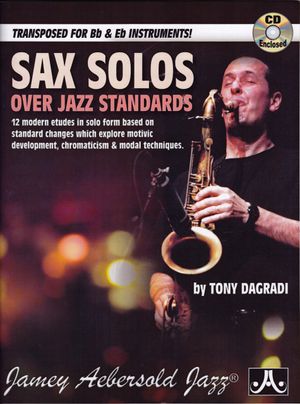 SAX SOLOS OVER JAZZ STANDARDS
SAX SOLOS OVER JAZZ STANDARDS contains 12 modern etudes based on standard chord  changes. On the included play-along CD there are two tracks for each piece. The first features Tony playing with a  rhythm section so that the listener can copy his style and feel. The second is the rhythm section alone, so that  players can experiment a bit and stretch out. Transposed for both alto and tenor, the solos are cohesive enough that they sound great when performed a capella.
The general attitude of these pieces is one of modernistic, cutting edge style. Dexterous bebop lines, pentatonic  patterns, chromaticism and modal techniques are all brought into play. Players who are seeking to expand their  contemporary vocabulary will find a substantial amount of advanced melodic language and solid compositional  elements to digest.
For more insight into the music found here check out the in-depth article written for the December 2011 issue of  
DownBeat
.
"(Sax Solos Over Jazz Standards) has moved me forward more than any book so far."
"This is the best Aebersold volume to date...masterful solos over great standard changes."
"Excellent solos for memorizing in entirety or grabbing licks over chord changes."
"This is just great fun to play with."
"All the tunes are really 'must know' standards and familiar changes...very well recorded and produced."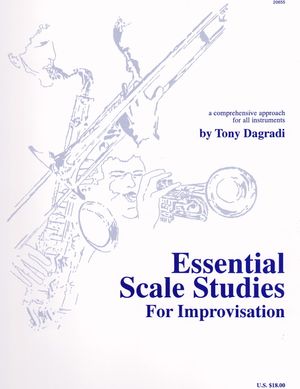 ESSENTIAL SCALE STUDIES FOR IMPROVISATION
At the core of any outstanding player's technique is a firm grasp of the intervallic relationships that make up the language of jazz. When we speak we put words together to make phrases and sentences to express our ideas. On the bandstand intervals and short melodic phrases must be strung together in a cohesive manner to create a complete musical thought in the form of an improvised solo. Older musicians describe this process as "telling a story."
The scale studies presented in this text have been designed to serve as a solid base of patterns and devices for beginners, as well as a reference source for more advanced players. It is also hoped that the sequence in which these ideas are introduced will function as a model for further individual exploration.
Beginning with an examination of diatonic intervals found in major scales, the text proceeds to permutations of seventh chord arpeggios, chromatic variations and the possibilities inherent in other types of scales; each study building on the ideas of those preceding. Taken as a whole, these exercises can help shape a personalized musical vocabulary and should prove fundamental to the development of all improvisers.
Click here to order: